If ever there was a place that could not make up its mind what it was supposed to be, this is it .. the Crystal Cave Tearoom in Burntisland. It is very confusing. It sells everything from buckets and spades to all sorts of trinkets along with a fairly comprehensive range of agates and other lapidary items … hence the name presumably. The people here were very friendly and work extremely hard going up and down a flight of steps to and from the kitchen .. rather them than us.

But someone needs to determine what the core business is and  concentrate on that because as a tearoom it was pretty good but could be even better if it wasn't for all the … stuff. Decluttering would improve the overall ambience and help it look like a proper tearoom. Like the sign says we felt they were on their way to a dream alright but had got a bit lost.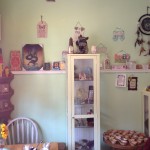 Anyway, enough of that, lets get on to the important things. We ordered scones and were told that if we wanted to wait a little we could have completely fresh ones straight from the oven .. otherwise we could have the ones that were done twenty minutes earlier!! We were tempted to wait but, in the end, decided that a twenty minute old scone was just fine .. and so it was, light,  good texture and lots of jam and cream.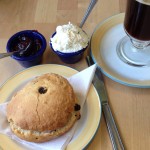 Coffee was presented in a rather odd choice of cup, the tall glass kind we usually associate with  gaelic coffee and Pat had to have hers reheated so it could have been better. All in all though we enjoyed everything and wish everyone at the Crystal Cave every good fortune. A crystal ball is what the Labour party needs as it wrestles with Corbynmania. Perhaps if they gazed into it hard enough they might actually see that Tony Blair's revelation that  he is godparent to Rupert Murdoch's daughter may explain why people don't want the old establishment Labour party any more, they want something fresh … and Corbyn is their man!

KY3 9UW           tel: 01952 890498           Crystal Cave TripAd