For those of you who know the tiny community of Kinlochard, here's a question – what would a group of fifty Russians and Greeks be doing in the village? While you are cogitating let us tell you why we are here. As if our Trossachs correspondents don't do enough, scouring places like Gibraltar and Lithuania for scones, they very kindly invited us to a 'Scottish' night at the village hall … they have already had very successful Indian and Italian nights. What a night it was … excellent Scottish themed food and drink, and even better company. Just walking the half mile from the house to the hall was exciting … us townies tend to forget what 'dark' means until you are in a place like this … it's dark! Goodness knows how Rob Roy and his merry band got around without iPhone torches! Unlike larger towns and cities, little places like Kinlochard certainly know how to generate community spirit … and it's a really nice experience. There were no Russians or Greeks at our night however.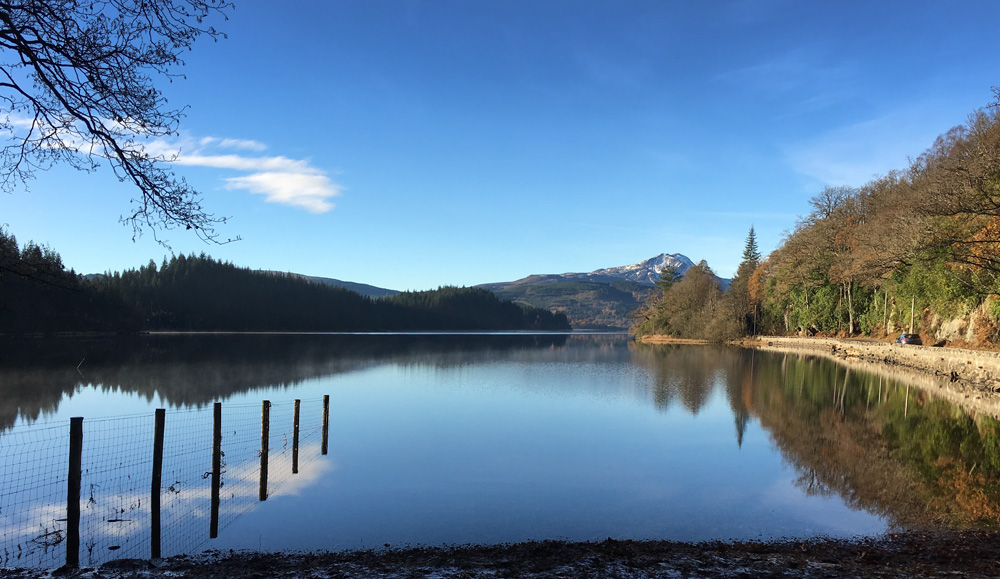 The next day was beautiful. After a wee walk round the village we had to head for home  but decided to visit Flanders Moss on the way. Having attended a fascinating Scottish Wildlife Trust talk about the Moss the previous week we thought we should check it out. Again, it is one of these places that you know of as one of Scotland's chief defences against the English in times gone by and as a place you drive past frequently … but not as a place you actually ever visit.

It's a designated National Nature Reserve and now it has a magnificent high viewing platform that provides a brilliant vantage point looking out towards Aberfoyle and the Lake of Menteith. Don't think there is any connection with Flanders in Belgium, the name seems to be a corruption of an old gaelic word. On the edge of the Moss near to Kippen you come to The Woodhouse, another of these café farm shops that seem to be popping up everywhere.
You would think there would be a cut-off point where there were too many and they would become  unsustainable … not yet, they all seem to be really busy and The Woodhouse is no exception. After our walk, lunch was definitely order of the day however there was no way we could pass up the chance of a scone test so that you, dear sconeys, can know that on your own visit to Flanders Moss it is safe to come here for sustenance … the things we do! They are quite big so we decided to share one between the four of us … one of the biggest testing panels we have ever assembled, a sort of scone version of Strictly.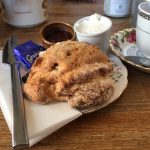 The tea and scone was presented beautifully with an eclectic range of crockery … and with locally produced butter and cream as well as homemade strawberry jam – four 10s so far. Taste was excellent as well so, without too much deliberation it was declared a topscone, well done The Woodhouse! Oh yes, the Russians and Greeks! They were in Kinlochard for a St Andrew's night dinner … St Andrew, of course, being the patron saint of Russia and Greece as well as Scotland … but you all knew that! Quite why they should find themselves in Kinlochard however is still a bit of a mystery. Earlier today, St Andrew's Day, the Prime Minister made a speech saying how proud she was of everything Scottish (the oil price is soaring) while simultaneously Angus Robertson was jeered for wishing the Commons a happy St Andrew's day … just have a great day everyone!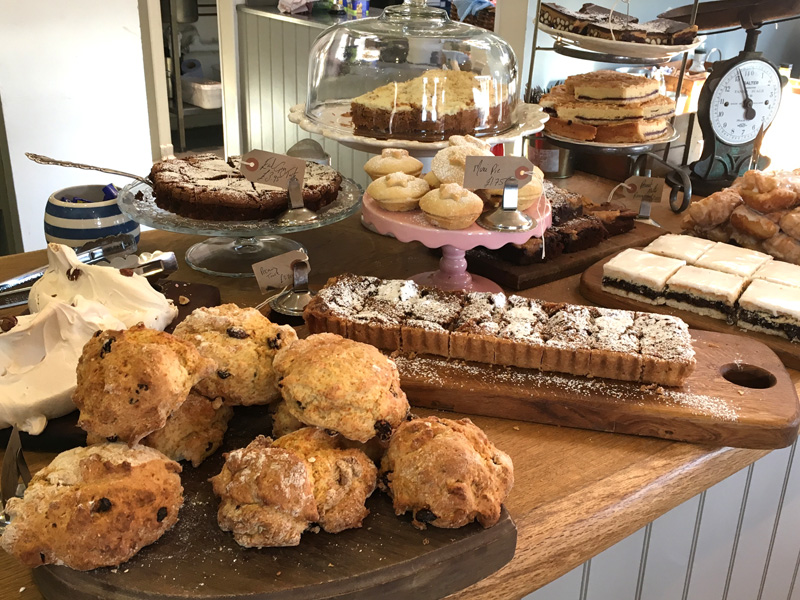 FK8 3JA       tel: 01786 870156        The Woodhouse FB