As we walked back to Waverley station in Edinburgh we had to pass the Scottish National Gallery … you can't miss it, it's the large imposing Parthenon like building at the bottom of the Mound.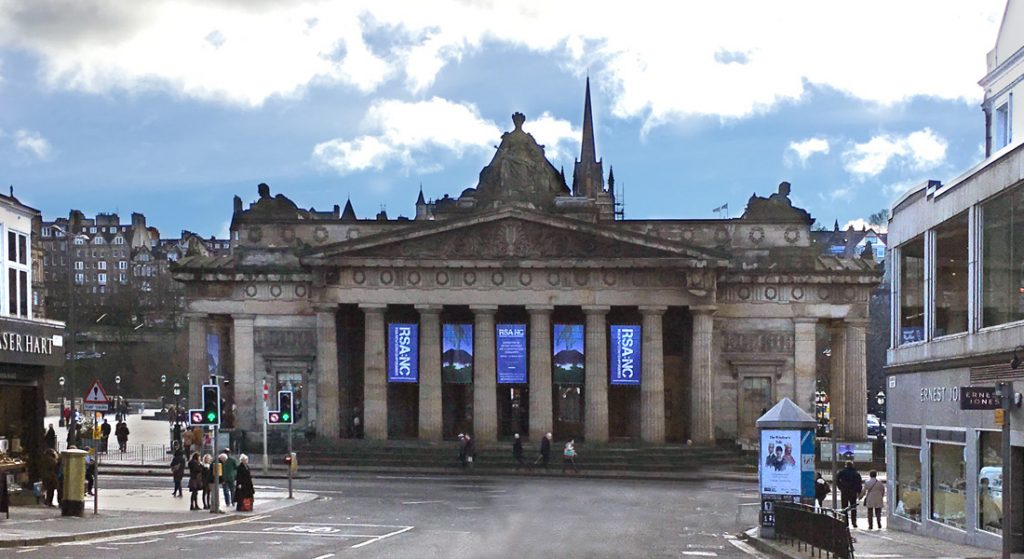 As you have probably gathered by now, Pat and I are not exactly what you might call 'mad keen culture vultures' but we do have our moments; the odd concert here and there; the odd exhibition now and again. Sooo, as we approached the rather grandiose home of Scotland's art treasures we had but one thought … 'they must do a scone in there'!

Once inside and as we walked around one of the galleries we paused in front of a small Rembrandt and wondered if you might be interested in our thoughts on the iconicity of the gesture spatially undermining the substructure of critical thinking … or … if you might like us just to get straight to the scones? Okay, the scones have it! Like many galleries it is both fabulous and pretentious in almost equal quantities but The Scottish Café wins, hands down, when it come to pretentiousness … who came up with that name? It had better be good!?

Early signs were less than encouraging because it's a bit of a soulless barn of a place and all self service. The young girl we got to help us was not from the UK and acted as if she wished she had never come … when asked if we could have something other than a paper cup for our coffee … no, was the monosyllabic answer! Ah well, after our recent sojourn at the Wee Lochan this was a bit of a let down. It's not cheap either … £3 for a fruit scone must have had deceased sconeys everywhere spinning in their graves. In their favour, it has to be said that the café and the rather nice looking restaurant next door, do try to use locally produced Scottish fare and a large blackboard, next to where we sat, explained it all in exquisite if somewhat bewildering detail.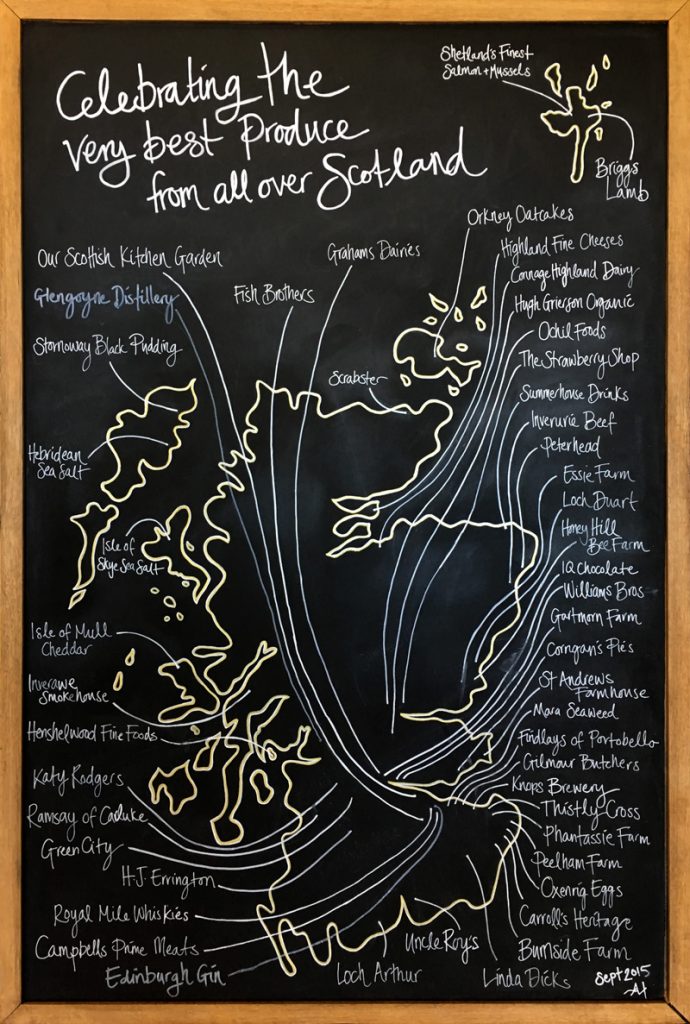 There was only one scone left which meant that we had no option but to share, so we got a pain au chocolat to share as well.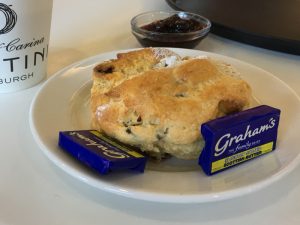 After we had cleared a table to sit at we looked at what we had got; a self cleared table, an expensive scone, a wooden knife, two pats of butter, a wee bowl of jam and coffee in paper cups. Things were not looking too good. Pat, however, started on her half of the pain au chocolat and was soon making all sorts of soft "mmmmm" noises. Eventually, once I had unpacked the butter and spread the jam, I took a mouthful of scone and, damn it, it was good as well! Maybe it was because of our expectations being lowered to such an extent by the surroundings and the service that we thought they were good, but no, they actually were good. In fact it might have got a topscone if we hadn't felt it would unfair to the likes of Fonab Castle and the Wee Lochan where the value for money is much much greater – no topscone! You see, we can be ruthless when it comes to maintaining standards!

Talking of standards, we watched the debate in Parliament about Trump's state visit later this year. It was good to see our elected representatives at full throttle, giving it wellie on both sides of the argument while struggling to make themselves heard over the anti-Trump protests going on outside in the street. The visit will go ahead of course because, at the moment, the government is grasping at anything that looks vaguely like a straw … but it's a pity he won't be able to address Parliament … with all the eloquence of a football manager, it might have been a good watch.
p.s. apologies to football managers everywhere.
EH2 2EL    tel: 0131 225 1550   The Scottish Café & Restaurant