The trip back from John O' Groats to home is a good six hour drive so sustenance of some kind is called for along the way. We have passed this place, just off the A9 on the banks of the Cromarty Firth many times but, until now, have never managed an actual visit.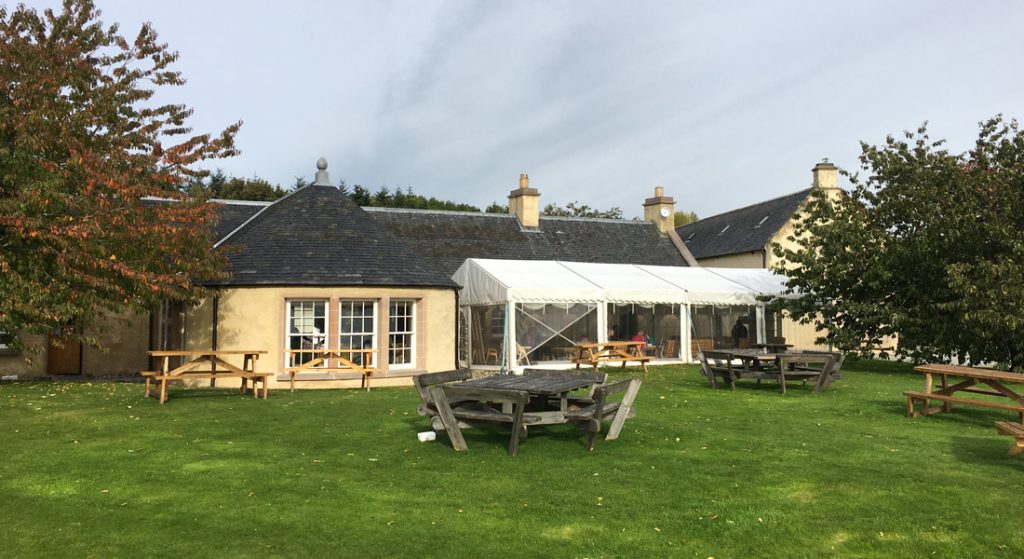 This is Munro country … not hills over 3000 feet, but actual Clan Munro country and, at one time, this was the centre of their empire. The first chief of Clan Munro was Donald O'Caan, Prince of Fermanagh, who came with his followers, from the River Roe in N. Ireland, to help King Malcolm drive out Viking Invaders. In thanks, the King granted Donald all the land between Dingwall and the River Alness and even today, one thousand years later, it's still known as 'Donald's Land' and it's still home to many Munros. It is rich agricultural land and this storehouse was built in 1740 as a central collection point for tenants of the estate to bring their oats and barley. These were then distributed to farm workers as wages or sent off to markets further south by boat together with things like timber and salmon … boats could land on the gently sloping beach, load up, and then take off at the next high tide. Today, the horses,  carts and sloops of yesteryear no longer come, now it is a large farm shop/restaurant with lots of car parking … it is busy, busy!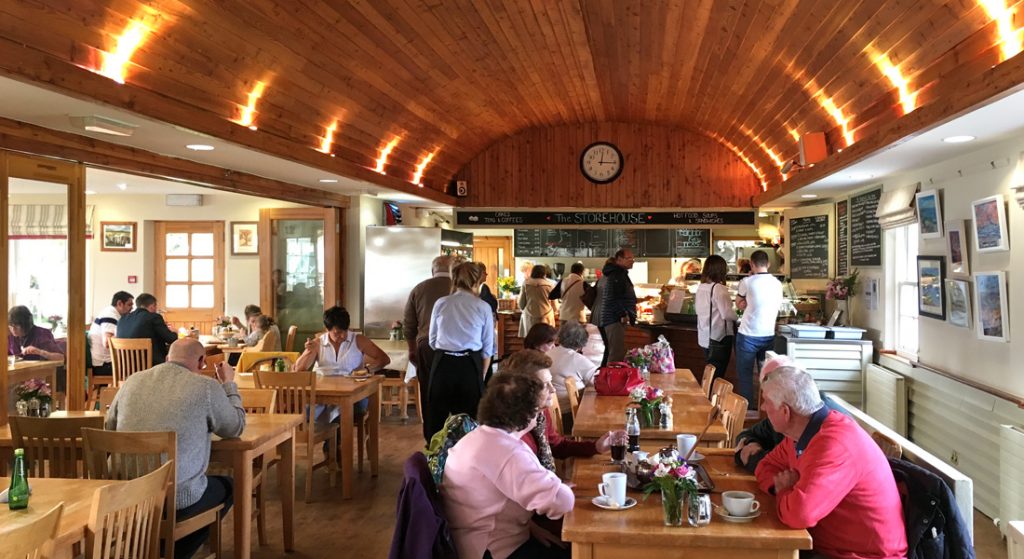 Although it goes like the proverbial fair it runs like a well oiled machine … lots of people serving and lots just clearing tables and making sure everyone is looked after. We decided to have a spot of lunch and then just share a scone. Normally we would have had a plain or a fruit scone but, just because they had them and in the interests of sconology, we plumped for the chocolate and banana scone??? … life on the edge!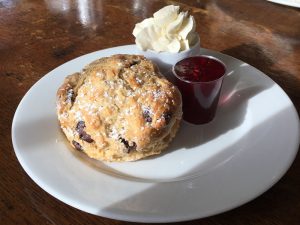 Lunch was fantastic … and the scone? Perhaps it is a little unfair because we think, if we had chosen one of their more common place scones, it would have got a topscone award however the chocolate and banana just didn't do it for us … near the top in the weird scone category, though! When we look out across the water from the big bay window we can see Nigg and its associated oil platforms parked just offshore.  We don't believe that Scottish independence should be predicated on oil … far from it, it should be based solely on the right to self determination that all other countries, except Scotland, enjoy. Nevertheless it is annoying that, during the independence referendum of 2014, oil was depicted as "running out within a few years" and as a "real problem" for the Scottish economy. In fact, production since 2014 has increased by 16% and within the last few weeks a new field (the biggest ever) has been discovered and will come on stream in 2019 delivering billions more barrels … but we barely hear about it. We wonder why? Could it be that it falls into the banned "good news for Scotland" category? The Prince of Fermanagh would have had something to say and he wasn't even from Scotland! The Storehouse is great, highly recommend!
IV16 9UX    tel: 01349 830038      Storehouse of Foulis