Another day another Barnes hot spot. Also the day after a supposedly sensible politician managed to bore a child half to death by reading her a story. Why do politicians insist on photo opportunities with kids? Can't think of any where they have not looked completely outside their comfort zone, so why do it ? Anyway, like that poor child you are probably fed up to the back teeth with election stuff already and there is still a month to go. On to better and more important things. Tea is Orange Pekoe's 'thing'.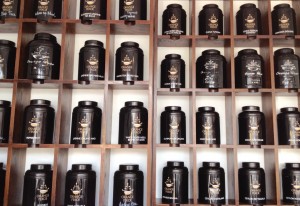 It derives its name from the very finest grade of broadleaf tea and it has won the Tea Guild 'Award of Excellence' seven years in a row so it seems to be quite good at the whole tea thing. Like Gail's, which is not far away, it is busy all the time and also has seats outside but is more set up as a tearoom and is renowned for its afternoon teas.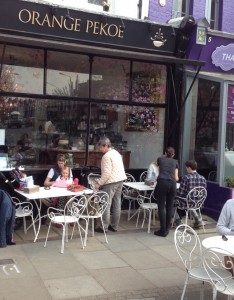 Lovely day so we took a seat outside and then were attended to by a very welcoming and friendly staff. If we had had more time it would have been great to sample the afternoon tea but we didn't so we just settled for some scones. They came accompanied by small dishes of jam and clotted cream and  were beautifully warm, light and fluffy … utterly delicious. Only criticism, and it is a tiny one, was that they were maybe a tad on the small side, they certainly give you enough jam and cream for something much bigger.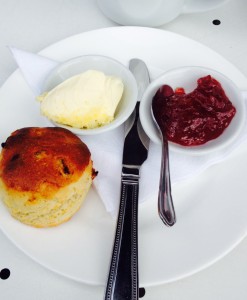 Accompanied by all the other stuff of an afternoon tea the size was ideal but on its own just a wee bit small.  Also, Barnes is probably not the place to come for a cheap scone .. seen more Aston Martins and Porsche Cayennes than you could shake a stick at. So  a little on the expensive side but having said that, we thoroughly enjoyed everything we had and would definitely recommend if you find yourself here for the boat race though your chances of getting in on Saturday are probably non-existent.
Had to explain 'scone' to a foreign lady and found it quite difficult .. there is really not much with which to compare it.
SW13 0PX  tel: 020 88766070   www.orangepekoeteas.com