The question is, what do you do when it is tipping it down with rain and blowing a chilly north wind .. go for a walk of course … well some of us do! 

Those who read our previous post will know that, from time to time, we are prone to a spot of bird watching .. and Linlithgow Loch is as good a place as any to spot all sorts of water birds and sometimes the occasional rarity. Not this day however; the birds, having more sense than us, had obviously run for shelter .. just a few coots and swans braving the elements along with our good selves. Somewhat drookit, we eventually came round by the Palace and came across the recently unveiled statue of Mary Queen of Scots looking out over her former home … not sure about it, what do you think? She was born in the Palace and, because her dad died, became Queen of Scotland when she was only six days old; she also became Queen of France when she was seventeen.. not bad going for a mere teenager. Of course many believe she should also have been Queen of England but that is a whole other story. At the end of the day, her main claim to fame comes through our Canadian niece whose two favourite women of all time are Mary Queen of Scots and Lady Gaga. By now you will have deduced where all this is leading .. a scone refuge! Slightly battered, but nevertheless invigorated, we found our way here to the So Strawberry Caffé in the town centre, enticed inside by the banner 'Happiness is Homemade'.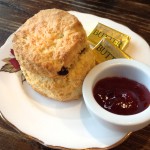 By the time we had discarded all our wet stuff our scone was on the table in front of us (we had opted to share one because they were quite big, but mostly because Pat fancied their gingerbread) … all their goodies are indeed home-baked. The scone was really nice with a slightly crunchy top and soft inside, just the way we like them, and loads of butter and jam .. no cream on offer, but sometimes you just have to make do .. life can be tough! Again it was a close run thing but unfortunately So Strawberry just missed out on a topscone award  .. you see how hard it is! The gingerbread was very good too.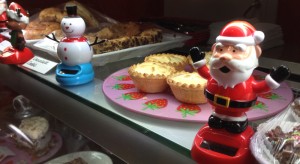 So often, in places like this, the staff can be a bit on the surly side, but not here; all the young lasses  appeared to be enjoying their work … lending little festive adornments to the displays. They do something a little bit different here too … miniature cakes for children .. very useful for frustrated parents trying hard not to overindulge their kids.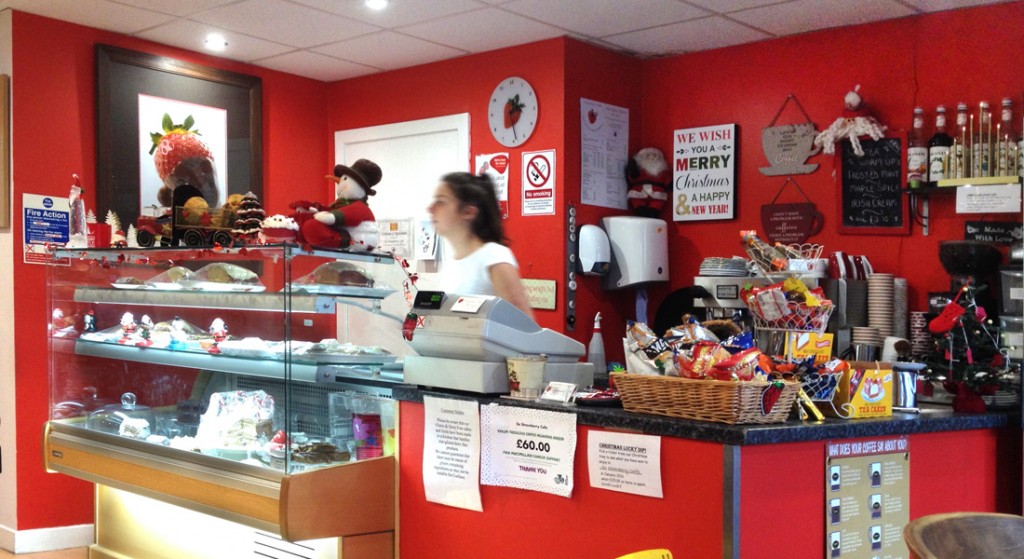 Today is St Andrew's day which provides a convenient link between Scotland, France and Syria what with Mary's french connections and Andrew being Syrian. The government seems hell bent on joining France in the bombing of Syria even though it is extremely unclear how this will help … and not at all difficult to see how it could make matters much worse. Cameron is using the old "Britain must do the right thing" trick to make those opposed to the bombing appear to be doing the wrong thing. Peter Ford, the former British ambassador to Syria says "if we are not careful we will stumble into the Syrian quagmire and the people of Britain, not David Cameron, will pay the price in blood" .. and he should know better than most! At times like these wouldn't it be wonderful if  the government had an opposition worthy of the name rather than the shambles currently masquerading as the Labour party! At least So Strawberry doesn't have to masquerade as anything other than a great wee café.
EH49 7EY        tel: 01506 843333       So Strawberry Caffé FB