What?? Sometimes we go to extraordinary lengths in order to broaden the horizons of our sconey readers but seldom do we have to risk life and limb quite like this. Nevertheless, undaunted, on a fine sunny day in March, we set sail from the Hawes Pier in South Queensferry into the uncharted waters of floating scones. We were aboard the good ship Forth Belle and the name of our trip was "The Blackness Castle, Three Bridges and … wait for it … Cream Tea Cruise" … okay, now you understand!

We were sailing up river under the old Forth Road Bridge, then the new Queensferry Crossing and before long we were passing the Rosyth Dockyard. Britain doesn't have any planes to put on the aircraft carrier being built here but now that Putin has been forced to take on the mantle of bogey-man-in-chief we think the money will probably be found … presumably after we've forked out the £300b for weapons of mass destruction like Trident of course. If Putin eventually gets put back in his box and there are to be no planes, the Prince of Wales will probably be put on Gumtree or eBay… not him, the ship!

For our cream tea we had to go below to the galley (hope you are heeding the nautical terminology) where there was a table from which we had to equip ourselves with the various accoutrements for a cream tea … thankfully there was someone to serve us tea and coffee. Okay okay, we may have over dramatised the life and limb bit somewhat but there were other dangers … because all the tables had been taken, we had to butter, jam and cream a scone on our knees with a plastic knife while the boat pitched and rolled mercilessly … okay, that's over dramatised as well!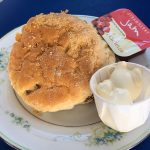 Maybe it was because of this high sense of adventure, maybe it was because of the chilling wind out here on the open water but our tea and scones tasted delicious. Obviously there was no topscone award, there were certain shortcomings when it came to things like presentation, however, overall we thoroughly enjoyed what we had … could have eaten another one. By this time we were at Blackness Castle which was as far up river as we would go before making the return journey. In a way we were mimicking German submarine U-21 which penetrated this far up the river in 1914 before turning back as well … they probably were not having a cream tea though!

The crew of the Forth Belle gave us all sorts of interesting snippets of information e.g. did you know that the iconic Forth Rail Bridge weighs 100 tons more when it is raining and grows in length by 7 meters when it's hot? No, we didn't know either but just think how many people you can bore at dinner parties with this sort of information. Alas, we didn't see any seals or dolphins but there were plenty of cormorants, eider ducks and the like. The  cruise was great fun, highly recommended. Ours was the last of the day and the only one we could get because all the others were fully booked … what some people will do for a free cream tea!!

Our Kiwi correspondent kindly reported recently that even Ed Sheeran will do anything for a free scone.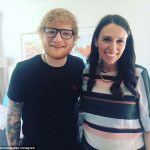 Apparently New Zealand's prime minister, Jacinda Ardern, couldn't fit any of Ed's eight NZ concerts into her busy schedule … so she invited him over to her place for a cuppa and a scone. He readily accepted because unbeknown to anyone up until then … he's a fervent sconey! Why did the BBC not report this? It's right up there with the usual stuff they like to report.
EH30 9TB    tel: 0131 331 3030     Forth Boat Tours