Today we were back at the Hippodrome picture palace to see Journey's End,  an excellent 'must see' for all those who think of war as a worthwhile endeavour … we were both a bit emotional at the end. Afterwards we decided to extend our homeward journey via one of our favourite scenic routes. Also, having had a wee nostalgia trip in our previous post we thought we might as well persist with the theme … but this time the images are coming from the gents toilet at the Elgin Hotel … too much information??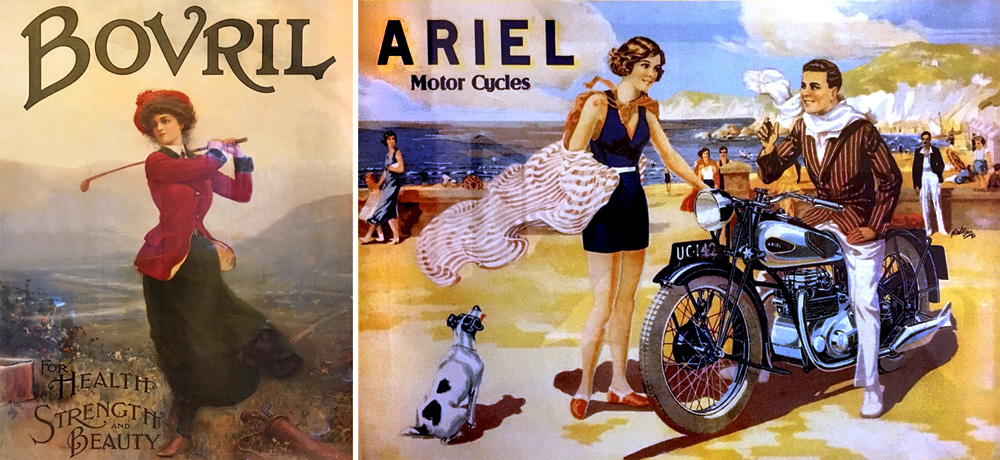 Admittedly, even at the time, these images would have been deemed 'romanticised' but once again we think it would be interesting to see if the artist could portray life today with such a degree of misty eyed innocence. Talking of things not being quite what they seem, we are not actually in Elgin, that fine highland town where you might reasonably expect to find such a hotel … our scenic route did not stretch that far! We are actually in Charlestown on the northern shore of the river Forth, only a few miles from Edinburgh. The Earls of Elgin have owned everything within sight of this place for centuries so the hotel takes it's name from them. They even had Charlestown built in the shape of the letter E … but hey, when you are an over privileged toff with more money than sense you can do that sort of thing!  The 7th Earl, Lord Elgin, was perhaps the most well known in that it was he who, in 1803, stripped the Parthenon of its marble sculptures  because he wanted them to decorate Broomhall House, his home on the outskirts of the village. They, of course, became known as the Elgin Marbles and they continue to cause as much controversy today as they did back then. Such was the fury at the time, Lord Byron carved 'Quod non fecerunt Gothi, fecerunt Scoti' in the rock at the Acropolis, meaning 'What the Goths spared, the Scots destroyed' … not sure who was the worst vandal though? For what it's worth, we think that Britain should do the decent thing and return the Marbles to their rightful place … but then again, when was the last time Britain did the decent thing?

Anyway, Charlestown itself is a lovely village which kind of belies the fact that it was once a shipbuilding port and even functioned as the ship-breaking centre for the boats of the German Imperial Fleet brought down from Scapa Flow at the end of World War I.
Before we move on to the important business of scones, perhaps there is just time for a teansy bit of tittle tattle. Controversy obviously follows the Elgins, because In 1990, the current Lord Elgin's son, Lord Bruce married one Amanda Movius, a 23 year old Alaskan with reportedly 'pop star' looks. She had been in Scotland on holiday but, after a whirlwind romance, ended up as Lady Bruce with a vast baronial estate and a 30,00 square foot mansion. Having embarked on several extramarital affairs however and setting up a failed clothes shop in Edinburgh she fled Scotland leaving behind a mountain of debt. Back in America she continued with a life of deceit and dishonesty until last year she was eventually jailed in Texas for credit card fraud, drink driving, possession of marijuana and obstructing the highway. We tell you this simply to illustrate that, heaven forbid, aristocrats are just the same as the rest of us, just a lot more privileged … not to gossip you understand! Enough of all that, what about the scones?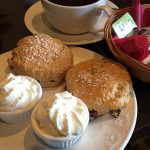 Unfortunately, mid-afternoon, we seemed to be the only people around. Nevertheless we were very well looked after by a couple of ladies who soon had us sitting in front of the fire and supplying us with tea, coffee and a couple of fruit scones. 'Disappointing' is the word that best described them. They were presented with a basket of prepackaged jams and butter … and the cream was scooshie … arrgghh!

We enjoyed them however because after walking in the icy Siberian blast of the Beast from the East it was nice to be sitting here in front of a nice fire with hot drinks and some scones .. even these scones! On the bar they had two whisky bottles made up like a giant egg timer. No one seems to know why it's there or where it had came from. Apparently it has got slower over the years and currently, the time for one bottle to empty into the other, stands at 67 minutes … fine if you like your eggs really hard boiled!
KY11 3EE      tel: 01383 872257       The Elgin Hotel
ps: a photo has been sent in from our Emirates correspondents. It is taken from a menu in Abu Dhabi and among the items in their 'Arabic High Tea' is a scone.
We had no idea that Arabs ate scones but you learn something every day … many thanks to our correspondents for that.  They did not furnish any information on what it was like, we will have to have a word … though at 113 dirhams (£22) it's not exactly cheap. Labneh, by the way, is a kind of Greek style yoghurt … think we'll stick with strawberry jam!