Situated in East Sheen village, this place is one of these authentic little Italian cafés. It has a shop, Villa Rosa, next door which sells anything you want Italian .. we bought a fantastic panattoni to take home.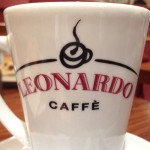 From the outside, Leonardo Caffé and Villa Rosa look like separate entities but, don't be fooled, inside they are a single unit with a large garden area at the back which must be wonderful in the summer. The business was set up by brother and sister team Leo and Rosa in 1983. Originally from Puglia in Southern Italy they pride themselves on everything they sell being authentically Italian .. okay, maybe not the coffee, it is from Columbia but it is blended in Italy so we will let them away with that one .. because it's excellent.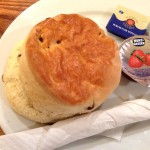 The scones were just a tad on the big side for our liking, with a slightly pasty taste .. but having said that, they were very light and fluffy and not at all bad. Rosa looks like a typical strong Italian woman who you just know would not stand for any nonsense .. but has an ever-present warm welcoming smile. She may have much in common with Myanmar's Aung San Suu Kyi who looks like winning the country's first free elections in 25 years.
This woman has conducted herself with such steadfast grace over so many difficult periods in her life that she must rank amongst the Mandelas and Ghandis of this world. Although  slight in stature, women don't come any stronger than this … she will need every ounce of it in the months ahead if she is to move her country forward. Although she thinks she knows what is best for her country the power still lies with the military who know what is best. She may need some help from Rosa … we wish them both well.
SW14 8QN    tel: 020 8878 7547     Leonardo Caffe