When we got the call to say that a tiny flower made of plaster (don't ask), ordered well before Christmas, had arrived at the Wm Boyle shop in Glasgow we decided to pick it up rather than risk it in the post. We got the train to Pollockshields East and, lo and behold, right beside the station is this place …. the Glasgow Gurdwara … impressive or what?
Religious we are not but we are curious about things we don't understand and just the building alone looked worthy of investigation. We knew that Sikhs wore turbans but that was about that in terms of our knowledge of Sikhism … enlightenment beckoned.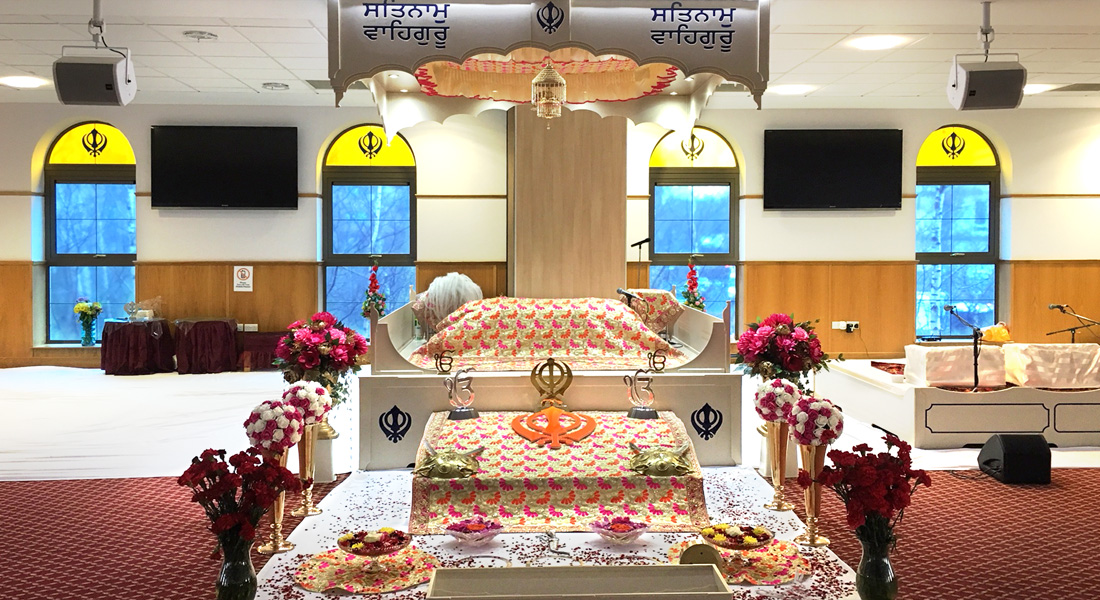 We were welcomed with open arms and once we had given up our shoes, washed our hands and donned some headgear we were ushered in and given a complete tour of the entire building … even though there was only the two of us! It was fascinating. We are not going to attempt to explain Sikhism here but suffice to say we now have a much better understanding. Our lasting impression though was of the warmth shown to us by everyone we met, we even received a wonderful lunch … chapatis but no scones!
Having collected the little flower and bade a fond farewell to our new Sikh friends we found ourselves back at Glasgow Central station and, just around the corner, is this place, the Riverhill Coffee House. We thought that it too might be worthy of investigation. At first we thought we were continuing our eastern theme because their signature dish is shawarma wraps, which we thought sounded rather Indian but turns out to be Arabic … our ignorance really knows no bounds! We quickly reverted to type though and opted to put the only scone they had left out of its miserable loneliness. Riverhill classes itself as "exotically Scottish" … an oxymoron if ever there was one but after our recent experience at Kilmahog, this place restored our sagging faith … lots of helpful smiling youngsters, eager to help and all Scottish, hurragh!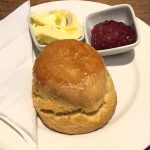 It used to be a jewellery shop until the owners decided to forsake diamonds for coffee, cakes and scones – a bold but totally understandable decision. They make everything fresh daily so our scone was good and although they didn't have cream there was certainly plenty of butter and jam. Not quite a topscone but good effort and great to see a place like this seriously taking on the multinationals at their own game. With Donald Trump cancelling his visit to London to open the new American embassy for fear of ugly protests we think he should come and visit the Glasgow Gurdwara instead. Sikhs believe that the way to lead a good life is to a) keep God in heart and mind at all times b) live honestly and work hard c) treat everyone equally d) be generous to the less fortunate e) serve others … turban for Mr Trump! On the way home on the train we had a fascinating conversation with 'Colin' who hailed from the Isle of Kerrera and was on his way to Germany to visit family. The little plaster flower eventually arrived back home, safe and sound, after an interesting day.
G1 3PU     tel: 0141 204 4762      Riverhill Coffee Bar