We were heading north for a few days but were caught up in some sort of cycling event for the first one hundred miles of our journey … a cyclist every two hundred yards with a queue of traffic waiting to overtake each one made for a very slow journey indeed. Having finally shaken them off at Ballachulish we thought a congratulatory scone was called for. Onich Hotel at the Corran Ferry was our destination of choice since neither of us had ever been there in spite of having passed it many many times in days gone by. It was sconeless, and the girl we spoke to, in her broken English,  only seemed to have the vaguest idea of what scones actually were … aarrgghh! In high dudgeon we set off for Fort William but no sooner had we started than we came on this place, Onich Tearoom … just the ticket! The eagle eyed amongst you will have immediately spotted a K6 red telephone box, currently used to store baby seats for the tearoom. We couldn't get access to the manufacturer's label but it would almost certainly have been made in Kirkintilloch.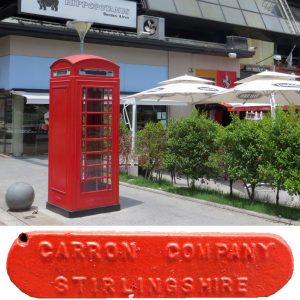 We say "almost certainly" because our indomitable Trossachs correspondents, on return from their K6 experience in St Kitts & Nevis,  remembered a similar experience in Buenos Aires a couple of years back … what are they like? When they looked out the photos, however, they were surprised to see that it was made by the Carron Company in Falkirk and thought it might be a fake. Definitely not a fake … a few K6s were indeed made in Falkirk but the vast majority were made in Kirkintilloch … on the other hand all K4s (the ones incorporating a post box) were made in Falkirk … first to send a picture of one of these wins a prize!

To confuse things even further they had K2s for sale inside the tearoom … but they were almost certainly all made in China. Sconey purists are probably thinking that we are getting carried away with telephone boxes rather than concentrating on the day job  … scones. Apologies but we do keep coming across them and they do raise a lot of comment. For the allaboutthescones definitive guide to telephone boxes click here.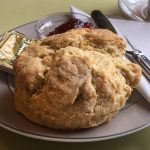 Anyway, enough of that for the moment, back to the job in hand! We ordered two fruit scones to go with our tea. Our friendly helpful host brought them with a generous portion of jam and a pat of Irish butter but, although freshly baked that morning by his wife, we felt that there was just something missing in the taste department … couldn't quite put our finger on it … enjoyable enough but no topscone! Onich, lies on the shores of Loch Linnhe just short of Fort William and its name in Gaelic means 'frothy bay'. At one time it was considered to be one of the prettiest villages in Scotland, however, on our visit it was a wee bit dreich (raining) so we did not see it at its best.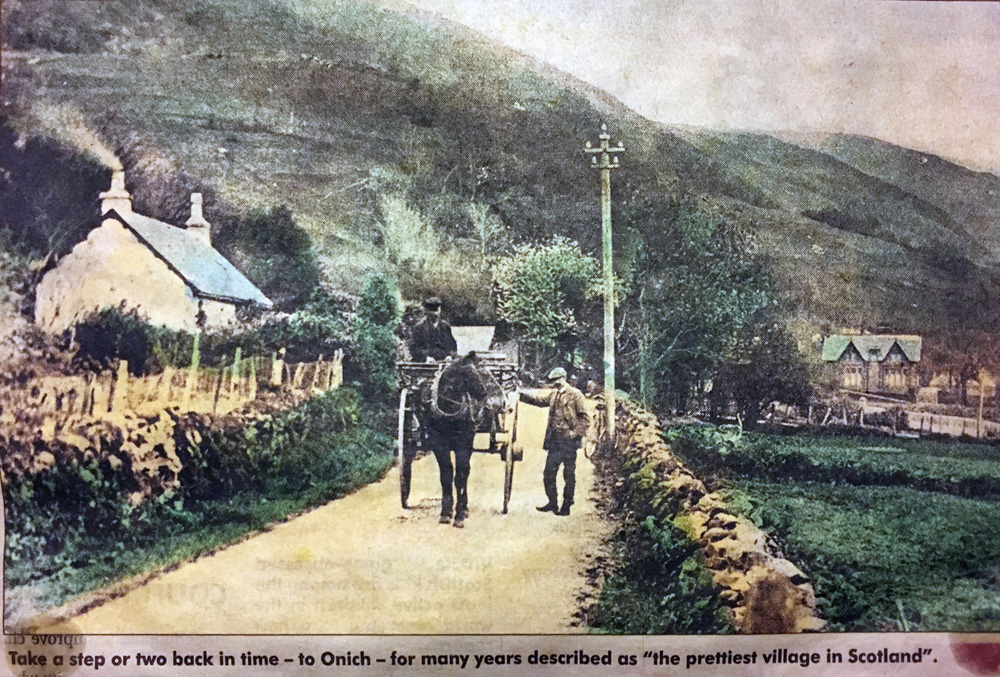 Nothing dreich about Scotland's economy according to the latest figures. It is both bewildering and amusing to see the media's treatment of the news that Scotland's economy is doing four times better than the rest of the UK after ten years of SNP government. After years of delightedly reporting that Scotland's economy was on its knees they are still trying to spin this into a bad news story. The government's spokesman, Rupert Murdoch, eventually resorted to saying in The Times, that it was all down to the influence of London … we hope they remember that when Scotland's economy is not doing so well because then, of course, it is all the Scottish government's fault.

PH33 6RY         tel: 01855 821230              Onich Tearoom TA