Admittedly, this is not the first place that comes to mind when seeking out a good scone a) it's a huge furniture warehouse b) it's situated in a pretty uninviting industrial estate … but, like us, you might be surprised. We used to come here quite often looking for the odd quirky piece of furniture but, hallelujah, since our last visit they have reorganised everything and added Café Belgica … and it seemed like the busiest part of the store.

It is well set up and there is a good range of food and drinks on offer … including scones. Ours fruit scones were good and served with a generous tub of clotted cream. The friendly lady who was looking after us, however, was having to work very hard negotiating a rather odd table layout – definitely something they need to look at in future.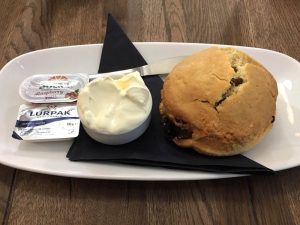 Not topscones unfortunately but enjoyable nevertheless. Café Belgica is providing something of an oasis in what is really a huge refreshment desert … a place to chillax away from the cares of the outside world and, perhaps more importantly, away from the Winter Olympics. Never mind the brouhaha about Kim Jong-un's sister making Mike Pence look like a bit of a plonker, or the fact that banned Russia is competing … but not as Russia? Even more ridiculous is the sight of commentators working themselves up into a lather over whether Team GB might beat Team Nigeria by 1/1000th of a second … at sledging! Does anyone seriously care? Maybe we just don't understand. In common with 99.999% of the population we don't know anyone involved in 'skeleton' (head first on a sledge) or 'luge' (feet first on a sledge) so are not in a position to discuss the finer points. As youths we used to take part in our own Tin Tray Championships which consisted of a group of idiots sliding down the Ochil hills on beer trays totally out of control … a bit like Brexit negotiations! Could Brexit become an Olympic event … a gold medal to anyone who can find a way to keep us in the EU.
EH51 0PU     tel: 01506 243954     Café Belgica