Now you might be a bit surprised by this post because we are reviewing a multinational coffee house – Caffé Nero to be exact, one of these dastardly companies that pays no tax .. prepare yourself for a bit of a rant. Of course we never thought we would have to review such places because we did not think any of them did scones .. but we were mistaken, Caffé Nero does (maybe because it is British), so we felt duty bound to give them a try. The whole tax thingy is a bit of a mess. Starbucks takes the brunt of the criticism because they are the biggest and the most famous.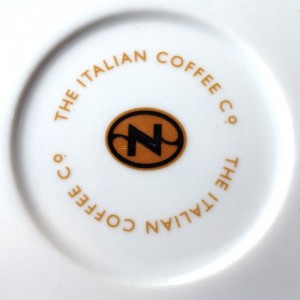 Caffé Nero has not paid any UK tax since 2008 because it exploits the same loopholes that Starbucks and all the others use (Boots has avoided £1.2b) by simply not being registered in the UK. There is nothing illegal about this practice so our sympathies lie with the companies which, like all companies, are duty bound to maximise profits for their share holders .. otherwise they are deemed to be negligent. The problem lies with the loopholes themselves and that is a governmental issue. The UK government gets a lot of stick for not closing them but, if you are expecting them to take decisive action any time soon, don't hold your breath .. most of the government exploits the exact same loopholes for their own personal benefit. Luckily, the European Commission is not so queasy about tackling the problem. They recently decreed that Starbuck's tax exemption in the Netherlands amounted to a state subsidy, was therefore illegal, and ordered them to repay £22m to the Dutch government. They did the same for Fiat which is registered in Luxembourg and presumably this principle will apply to all multinationals in due course .. if it does we should all benefit .. hurrah! As far as the UK is concerned there may also be light at the end of the tunnel .. not because of government action, heaven forbid, but because, Crickhowell, a small town in Powys has elected to move 'offshore' and registered all it's businesses in the Isle of Man … the same as Caffé Nero, and now they will no longer have to pay tax either .. brilliant! No skullduggery .. all done in discussion with HMRC.  If all towns were to follow suit, and we cannot see why they wouldn't, perhaps then the UK government might eventually waken up to the concerns of ordinary people who have to pay every last penny in tax .. or go to jail. Enough of all that frippery we hear you cry .. the scones! Reviewing this particular Caffé Nero is a little unusual because it means that the result applies across all of it's 600 outlets .. they are all the same .. it is their main selling point. When you go into a Caffé Nero, or a Starbucks for that matter, you know exactly what environment and quality to expect .. fantastico! Not sure how they do it, presumably there is some sort of black magic involved, but the scone we have here in Falkirk will be exactly the same as the one we would have in Canterbury or Belfast or wherever .. is that just clever, or is it slightly spooky?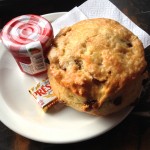 Our scone came complete with butter and jam and, if we had wanted, a sealed tub of clotted cream. All in all it was quite good. Doesn't fit the criterion, so it never had a hope of getting a topscone award but we can see how folk coming into Caffé Nero could ask for this and enjoy it, so hats off to them for being able to produce this level of standardised product across all it's outlets. The bad news today is that 10 Tory MPs sat through the debate on the Scotland Bill then 400 came in to vote down all the Scottish amendments .. it will now fester for months in the unelected Lords. The good news is that a wee firm in Crieff is to start exporting oil to the Middle East .. okay it's rapeseed oil … but still, maybe they would like scones as well?
FK1 1NR      tel: 01324 623906       Caffé Nero