Can't actually remember the last time we were in North Berwick but it was certainly some years ago. On this visit, if it wasn't for the fact that we know better, we would say that everyone in town was more than a little devious, Machiavellian even … you know who you are! But that's another story.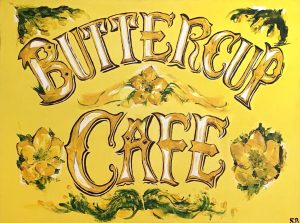 North Berwick itself is a lovely little seaside town with lots of art galleries, craft shops, restaurants and cafes. It consists almost entirely of rather grand Victorian houses and is surrounded by golf courses … and, to top it all off, not content with one beach, North Berwick has two. It was called North Berwick to distinguish it from South Berwick (now Berwick-on-Tweed) which, at one time was in Scotland rather than England. In the 16th century the town was a hotbed of witchcraft with many more witches being tried here  than anywhere else. One Agnes Sampson was accused of making a potion which made the seas rough for King James VI and his new wife, Anne of Denmark on their return voyage to Scotland. In 1591 she was tortured until a confession was obtained then burned at the stake. Thankfully there's not so much of that sort of thing going on these days, or at least we did not see anything like that on our visit.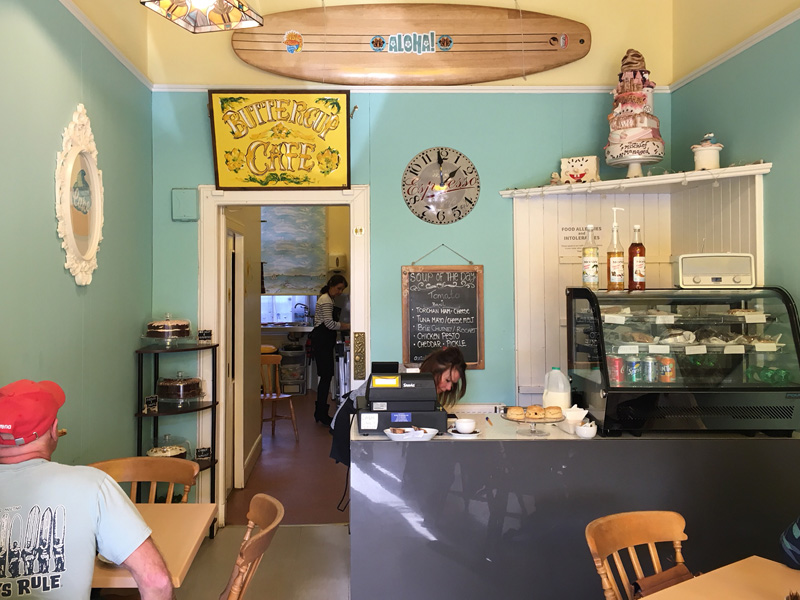 The tiny Buttercup Cafe is in the centre of town and has just a four tables and a serving counter. The predominant decor is surf boards. Now although the waves just a few meters from the door were definitely big enough for surfing the temperature, at a smidgen above freezing, definitely was not … brrrr!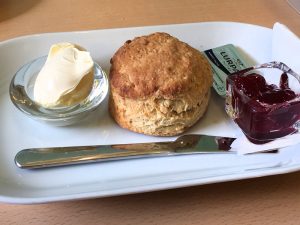 The welcome here though was very warm and we were soon kitted out with a fruit and a plain scone and offered a wide range of jams to go with them. They were nicely presented and each scone came with a generous pot of clotted cream .. what's not to like? Nothing as it happens but we eventually decided that, wonderful as they were, the scones were not quite topscones … shame. Isn't it wonderful how, with no proof whatsoever, Putin has been branded public enemy number one because of the Sergei Skripal affair. We are not taking Putin's side, far from it, but we do think he has good reason to be more than a little disgruntled at the actions of the West recently and May's refusal to provide him with a sample of the deadly toxin is impolite if not Machiavellian. In fact, knickers have become so twisted that Brexit has barely got a mention recently … gosh, who would have thought it!

EH39 4HE    tel: 01620 894985     Buttercup Cafe FB
p.s. This K6, constructed in the Lion Foundry, Kirkintilloch was found at the west end of the High Street in North Berwick. It had been converted for use as a cash machine but retained an outside telephone … for very small people??