We don't often revisit places we've previously reviewed and, even when we do, we don't usually write about them again, however, on this occasion we felt an exception was justified.

Back in July last year you may remember that, thanks to a friend who was competing in the European Clay Pigeon Shooting Championships, we decided to join him at the National Shooting Centre Scotland and try to reduce our almost total ignorance of the sport, even if just by a tad. Not only were we amazed by the sheer magnitude of the event … hundreds of people from many countries all milling about … with shotguns! They were also serving scones hence it appeared in the blog. A few months later and much to our surprise, we got a lovely email from the NSC saying they had come across our post by chance when revamping their own website and inviting us for a free lesson … how could we refuse? Our schedule however, meant that it wasn't until now that we were able to take them up on the offer and, even at that, Pat couldn't make it so it was just me … could I do a scone on my own??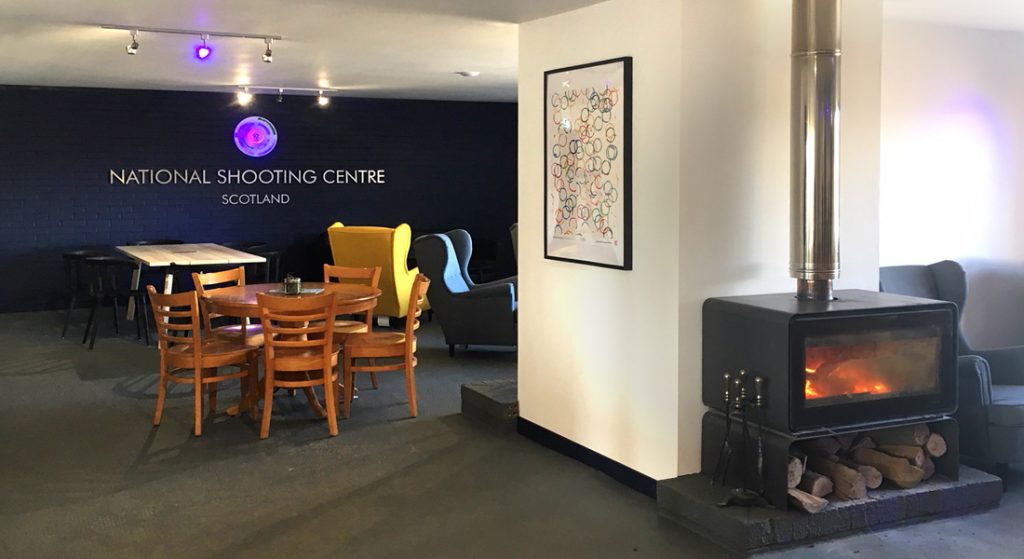 What a difference a few months make ….wow! The old somewhat drab and dreary interior of the clubhouse had been totally transformed … clean white walls, comfy armchairs and a huge wood burning stove giving an overall warm and welcoming feel to the place.

Stewart and Amy also gave me a very warm welcome. Stewart insisted however,  that there would be no scones until I had proved myself able to kill at least one clay pigeon.  After a brief safety chat and gun selection we were out on a stance and ready to go. It has always been a little disturbing for a non-shooter like me to enter a room which is completely lined with guns. Maybe it's got something to do with the recent anti-gun protests in the US, who knows, but such potential for destruction can be a little unnerving to the untutored eye.

I know you are all desperate to know how I did. Suffice to say I hit more clays than I missed so I was a trifle pleased with myself. I, of course, put it down to my own innate talent, however, I guess Stewart would have put it down to his expert tuition … and he would have been right. There was a wonderful brief moment when any lingering thoughts I may have harboured about shooters being a blood thirsty lot were completely dispelled. Unbelievably, a kestrel came in and hovered, stock-still, right in line with all the guns. All shooting stopped until it had done what kestrels do and moved on about its business … magic!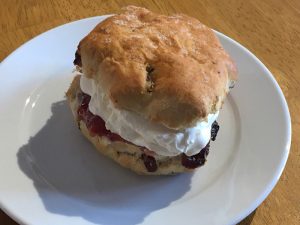 Back in the clubhouse it was time for a well earned scone. Amy, a shooter herself, did the needful and produced one of her own home-baked scones which was absolutely delicious. It would have got a topscone award had it not been presented fully loaded with jam and cream .. and you all know our thoughts about that … scones should come with jam and cream on the side so that individuals can load them according to taste. Although this is a founding principle of all sconology, we do recognise that shooters often have others to load their guns for them, so maybe it's got something to do with that? Should we make exceptions … no! Just my opinion of course since I was flying solo on this one. Never mind, as the scone's contents squished out the sides with every bite, it became yet another finger-licking good experience.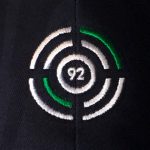 Maybe not finger-licking but a good experience anyway seemed to be had by Kim Jong-un as he watched South Korea's Red Velvet girl band at a pop concert in Pyongyang , something which, previously, he would have pronounced illegal … maybe there's hope for the world after all.
Many thanks to everyone at the National Shooting Centre for their kindness, patience and hospitality … it was a just great!
FK1 3AL     tel: 01324 851672     National Shooting Centre Scotland