This day was one of those brilliant sunny winter days where you feel invigorated by the clear crispness of the air. Some readers may not realise that one of our many talents, besides looking for scones, is looking for birds. Today we were at Vane Farm, near Kinross, in a cold bird hide watching amongst other things, slavonian grebes and a white-tailed eagle. Now if any of you have even a passing interest in oisseaus you will be well aware that watching these relatively rare birds is a little bit special. You tend to feel vaguely honoured and a trifle pleased with yourself just for having been in the presence of such rare and magnificent specimens .. no not us, the birds! Like them though it is never long before you feel the urge to feed and hence we find ourselves here in Kinross at the Green Hotel … a place that holds many fond memories for us. For a number of years this place hosted our work's Christmas parties. One abiding memory is of us all doing a conga round the grounds in the falling snow … and being completely impervious to the cold .. perhaps the less said the better. Anyway, it was nice to be back and nice to get into a big comfy armchair after our bottoms had endured a cold hard bench all afternoon. Service was perfect and before you could say "white-tailed eagle" we had our coffee and scones.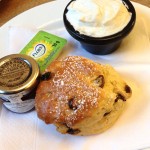 Coffee was fine, although we have had better, but the scones were very good .. lovely and warm and probably the most fruit we have had in a fruit scone for ages .. and they came with a nice pot of jam and lashings of cream. It was really difficult but eventually it was decided that they just missed out on a topscone award .. but it was very very close … phew … the anguish and stress we have to endure for your reading pleasure and scone enlightenment! We wish there was more enlightenment in the ongoing Paris situation.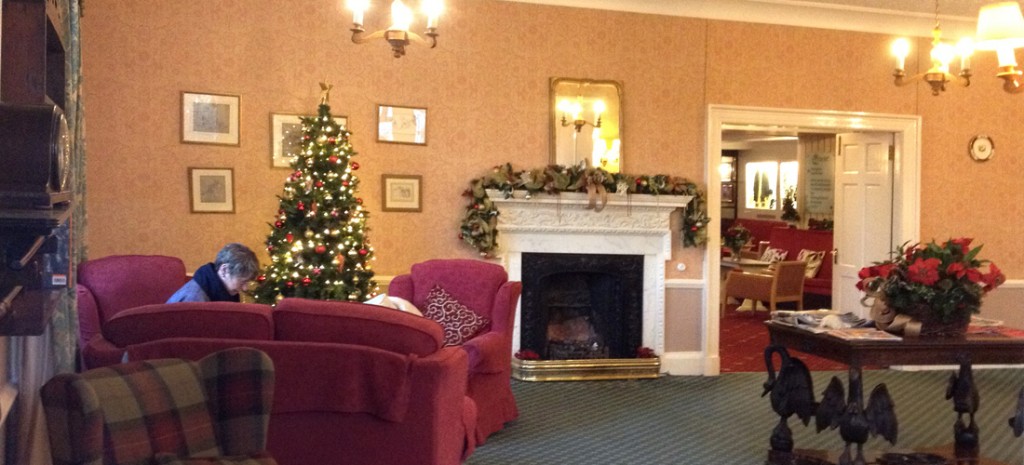 The media must bear a lot of the blame for us all feeling utter despair at the world being such a horrid and despicable place … some of the Murdoch press headlines in particular have been truly awful. Of course, it isn't … the world is a wonderful place full of absolutely wonderful people. Even the perpetrators of these atrocities are not religious fanatics nor immigrants, as the media would have you believe, they are mostly French and Belgian lapsed Muslims who have scant knowledge their own religion .. they are disaffected people who have found a way to express their anger at the futility of their own lives .. not an excuse in any way shape or form, but perhaps our governments should be paying more heed to that aspect of things rather than taking the easy option of air strikes. In times like these we are made to feel that we should not scrutinise our government's actions too closely, when surely we should be doing exactly the opposite. Does anyone honestly feel safer in the knowledge that we can completely flatten a town in a country thousands of miles away? Technology now allows us to wage a war with the potential for hundreds of thousands of dead on one side and absolutely none on the other … that's not war as we know it, but it is illusory because it is also absolutely certain that the war will not be won, if it can be won, until we send in our sons and daughters … does that get reported?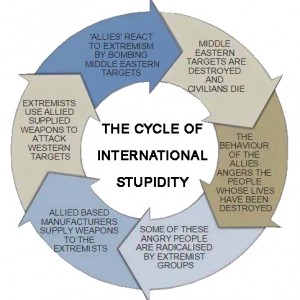 Does it get reported that the cause of the original trouble in Syria was the weather? Does it get reported that the trouble in Ukraine was caused by the US, not Russia … no! Until our journalists start doing their job properly rather than simply repeating what they are fed then this cycle of stupidity will continue .. because we will be seen to be supporting it. Journalists are guilty as much for what they don't say as much as for what they do because when they ignore the truth the silence becomes a lie. Enough we hear you say! Just don't expect fair reporting any day soon but also don't forget the birds at Vane Farm … in the midst of all this mess, they are still fabulous … but no more so than our fellow human beings, don't let the media tell you anything different.
KY13 8AS         tel: 01577 863467            The Green Hotel