You've heard of shooting stars, but have you heard of shooting scones? No, let us enlighten you. As you are aware, we leave no stone unturned in our bid to bring you the latest scone news, however, the situation described in this post even surprised us. We knew that friends were involved in shooting but when they visited us, we had no idea they were competing at the European down-the-line Clay Pigeon Shooting Championships … eh?? Turns out that the venue was a shooting school half way between Falkirk and Slamannan and recently, having had a load of money spent on it, had been designated the National Shooting Centre for Scotland.
Although it is only a few miles from our house (sometimes we can hear the guns if the wind is in the right direction) we were totally unaware of its new elevated status, in fact, we were pretty much unaware of anything to do with it. Out of sheer curiosity we decided to go along and see what it was all about. Imagine our surprise when we came to the end of a dirt track on the high and pretty desolate Slamannan plateau and emerged through some scrubby trees to find what must have been about seven or eight hundred folk milling around, most of them carrying shotguns … surreal or what? Strange for mere sconeys like us, who lead very sheltered lives and are not used to seeing guns … to see sooo many!

The site is huge and the competition was in full swing with shooters shooting on numerous specially designed crescent shaped stands. Five competitors per stand each taking it in turn to shoot the 'birds' as they call them … the orange coloured clay pigeons.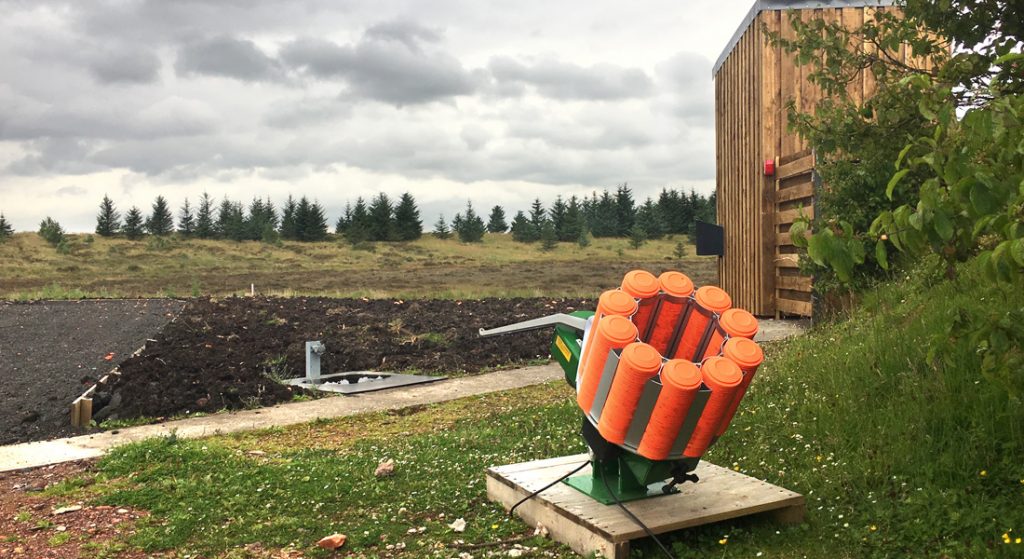 Although we are now conversant with all aspects of the sport,  suffice to say, at this point we didn't have a scooby.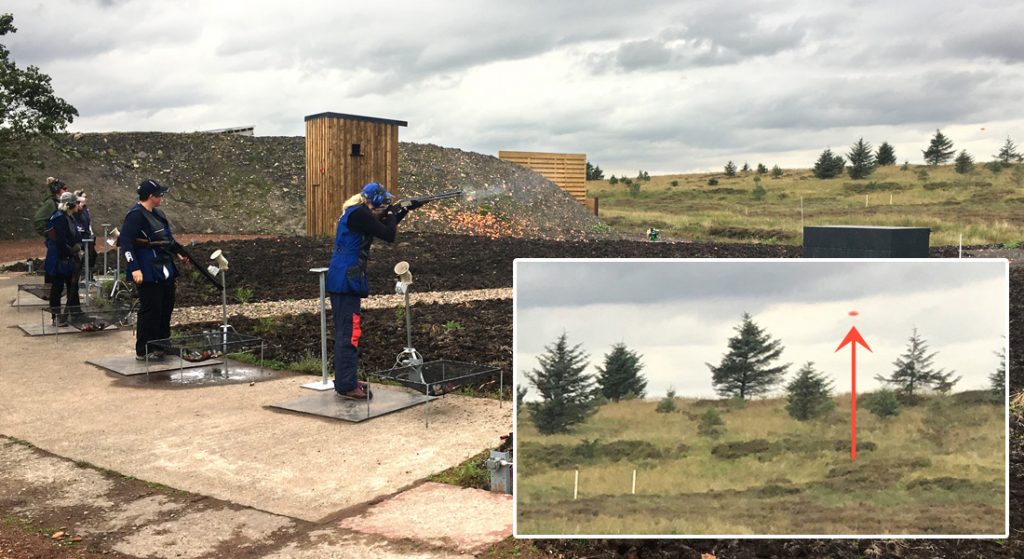 We did know, however, with guns going off everywhere, that it was noisy … very noisy! Everyone had ear defenders on … except those who were simply here to eat the scones they had spied earlier in the clubhouse. Eardrum fatigue eventually drove us back in that direction.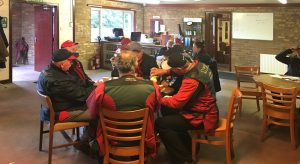 The scones looked good but the lady who was serving was slightly wide-eyed and more than a tad frazzled, valiantly coping with multitudes of hungry gunmen on her own. Against all the  odds her sense of humour was still evident, though when I asked if she had personally baked the scones … oh, if looks could kill! To make matters worse she had to pre-load the scones using large catering packs of butter and jam which slowed things down considerably … perhaps it was just as well that we had decided to share a scone between us.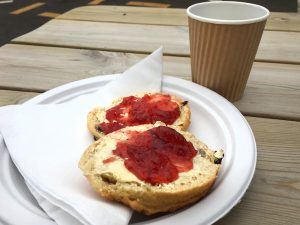 At last we had two halves of a scone but, because our lady had been rushing, one half just had a dollop of jam in the centre. It needed spreading but there was nothing around that bore any resemblance to a knife. Presumably, in a place with hundreds of guns, a knife might be deemed dangerous! I had to use my finger, there's a first time for everything! The scone itself was quite good, almost finger lickin' good, but you know our criterion for a topscone, so this one was never going to make the grade … enjoyable enough though, especially on an wet windy day like this. What sort of people compete in a sport that involves shooting brightly coloured bits of clay in the rain? Do they have to be totally mad or just half mad? We asked a chap from the South African team, and he replied curtly "you don't have a life unless you shoot"! Are they mad … well no more than a bunch of people trying to get a small ball into a tiny distant hole in the ground by hitting it with a stick.  Seriously though, these folks are completely dedicated and because the level of competition is so high, extremely skilled.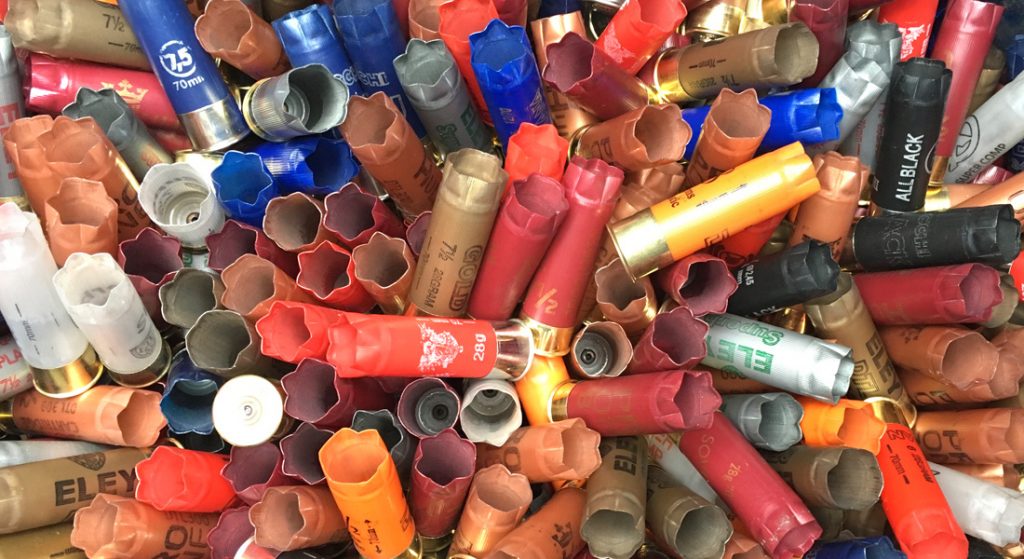 With our new found knowledge we could regale you with the differences between down-the-line, traps, skeets, over & unders, the handling properties of Brownings and Perazzis versus Berettas, and all sorts of other things you can't even begin to imagine … however it is probably easier if we just explain the UK's strategy for Brexit … yes, that would be much much easier because they still don't have one! Huge thanks to A&C for letting us share this experience.
FK1 3AL     tel: 01324 851672     National Shooting Centre Scotland
UPDATES: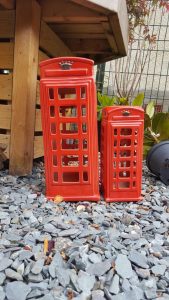 the couple we met on the Isle of Rùm who were making a holiday nettle cord eventually completed it and sent an update. It eventually included nettle from Camusdarach, Rùm, Arisaig and Mellon Udrigle and finished with bramble from the shores of Loch Maree … because they couldn't find any nettles?? Our Trossachs correspondents are back in their natural habitat after their sojourn to St Kitts and Nevis and sent a picture of a K6 they spotted in Aberfoyle … made in China we think. Many thanks to all for keeping us up to date.