This post sees us back in the nether regions of the UK visiting family .. London, or Barnes to be more precise. It is a very pleasant area with lots of parks and a great network of paths that mean you don't have to walk near busy roads very often .. but you do need to be mindful of over-enthusiastic joggers and cyclists .. sometimes seems like nobody just walks. We walk though and on this occasion our walk took us across the Thames at Barnes Bridge to Chiswick and one of our favourite antique shops .. the Old Cinema. One of Chiswick's rather dubious claims to fame is that it was the first place in Britain to be hit by a German V-I (doodlebug) rocket bomb. The Old Cinema hasn't been a cinema since the 30s but obviously survived the doodlebugs because the building has now been utilised  as a centre for somewhat quirky up-cycled antiques. Browsing was definitely the order of the day however since most of the price tags would have to be considerably downsized to match our rather tight Scottish pockets. Strangely, after a pleasant hour or so rummaging, we became subject to a mysterious and irresistible force that pulled us out and around the corner onto Turnham Green Terrace and this place … Maison Blanc, a little bit of France.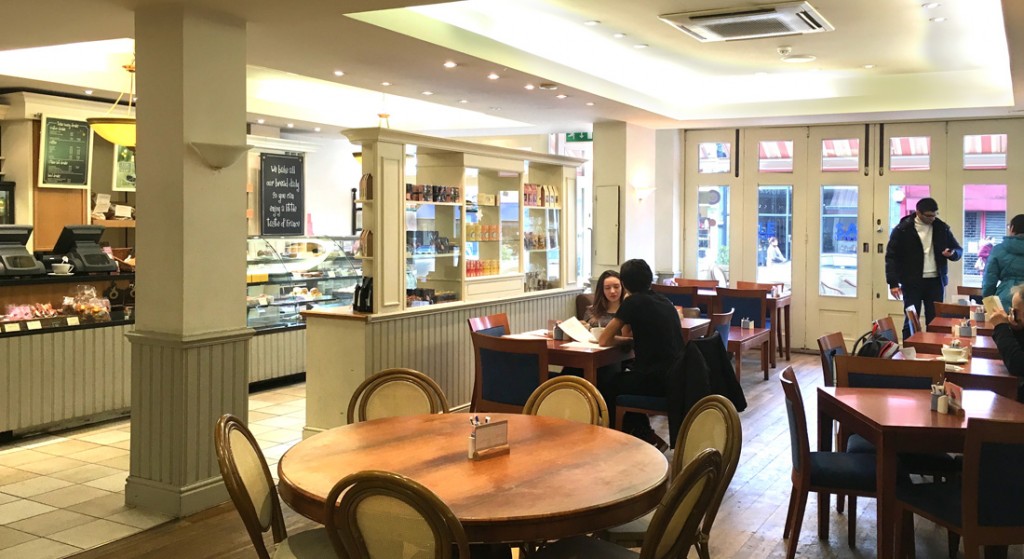 A self-styled  'artisan bakery renowned for its speciality breads, freshly baked pastries, world famous cakes and pâtisserie – all handmade to perfection' it also boasts of it's 'viennoiserie' … that's 'croissants' to you and me.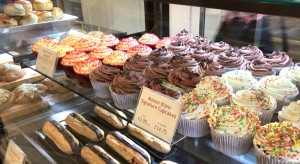 Apparently they also have a joie-de vie attitude and believe that life should be enjoyed one delicate macaroon at a time. But we British know the French rather well, don't we; compulsive seducers, lazy, speak only French, drive like the Italians … so, with all their haut cuisine and everything, the big question was, would they be up to making a decent scone? Almost … the scones had scrubbed up quite well, nicely shaped with a glossy bronzed finish and nicely presented with a tub of Cornish clotted cream and a pot of jam of a somewhat indeterminate nature.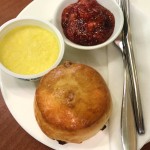 The more attentive amongst you may have noticed that we have not given a topscone award for some considerable time so we were hoping that this might be our chance, because we do like to give them out, but it wasn't to be. The rather odd jam; the prepackaged cream; the scone itself … although enjoyable enough the combination was just not right .. pity. On a slightly different tack, we almost never comment on the omni-present piped music because it is almost always awful, but this was an exception .. no Piaf, just the right volume, and a mixture of Howling' Wolf, John Lee Hooker and Billie Holiday .. perfecto! At the end of Turnham Green Terrace there is a statue of William Hogarth the famous painter who lived locally until his death in 1764. Although a renowned portraitist he is probably best know for his satirical works … what would he make of things if he was alive today; trickle up economics; uppity Arabs; uppity Americans; uppity Scots; looming EU collapse, looming financial meltdown. Goodness knows why people are surprised by talk of a meltdown when nothing has changed since the 2008 crash .. untouchable bankers still gambling with our money. Hogarth would have been in his element! In his heyday he always had something to say about the French .. but probably not about their scone making abilities … or the lack of them .. are we the first? Doivent faire plus d'efforts!
W4 1QP       tel: 020 8995 7220          Maison Blanc