Connections are funny things … they happen in the most unexpected ways. For instance what do you think connects the following:
the town of Falkirk in central Scotland
the Battle of Trafalgar
the K4 telephone box
the seaside town of Cockenzie, just east of Edinburgh
the town of Barga in central Italy.
The answer is Cadells Café of course! Perhaps some sort of explanation would help. The cannons used by Wellington at the Battle of Trafalgar and the K4 telephone boxes were all made at the Carron Iron Works in Falkirk which in 1759, was founded by one William Cadell whose home was Cockenzie House in which we now sit eating scones in Cadell's Cafe. The house is situated in the town of Cockenzie which in turn is twinned with the town of Barga …. simple!! Attentive readers will remember we mentioned Barga recently in the post about Brian's Café. Brian was a member of the Serafini family who originated in Barga. It's a small world!

Anyway Cadell's Café is situated in the 'secret garden' of Cockenzie House alongside a grotto decorated with seashells and a ruinous claret tower … we use the word 'ruinous' advisedly? No such problems in the cafe however. We were ushered in out of what was a bitterly cold day and sat beside a lovely log burning stove … what could be better?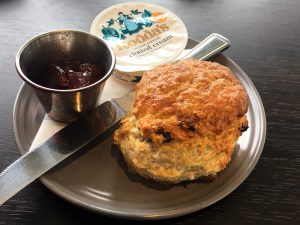 The scones were nicely presented with a good pot of jam but unfortunately along side was the ubiquitous Rhodda's Cornish cream. Most of you already know that we have nothing against Rhodda's but we just feel that it would be better to go for local cream, Scotland has loads of it. The scones were nice and crunchy but maybe just a tad too much. In the end there was no topscone but we thoroughly enjoyed our visit and would not hesitate to go back. Returning to the subject of connections … FaceBook's raison d'etre is connections. Poor old Mark Zuckerberg probably never thought he would be accused of helping rig national elections when he started trying to connect the students on his campus at Harvard University. Mind you he probably never thought that within a few years he would have $70billion in his hip pocket either.

What seems of even greater interest to us is the role of Cambridge Analytica, the British company that allowed FaceBook's data to be harvested. It's a company which donates huge amounts of money to the Conservative party and is run by some of the movers and shakers in the Torys. Maybe it's not only the US election that was rigged … what about the 2014 Scottish independence referendum … oooo!!
EH32 0HY     tel: 01875 819456       Cadell's Café TA