In 1896 when the tall ship, Glenlee, seen here on the right of the title picture, was launched from the Bay Shipyard in Port Glasgow this part of the Clyde was buzzing with heavy industry … Glasgow was building railway engines and mighty ocean liners for the rest of the world. Hard to believe nowadays when the river banks are mostly lined with nothing more than elegant apartments … 'riverside living' they call it.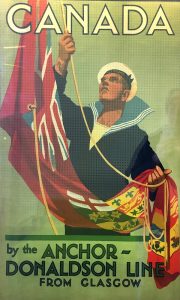 The racket of riveters at work has given way to relative peace and quiet, and rather than the skyline being dominated by huge cranes, today it is ultra modern buildings like the Armadillo, the SEC Hydro, the Glasgow Tower and this one … the Riverside, or to give it its full name, the Riverside Museum of Transport and Travel. For years we have been saying that we should visit but you know how it is … difficult to find the time. We wish we could say that this visit was caused by lofty cultural and educational reasons but it was actually much more prosaic … our car was being serviced at a nearby garage and they offered to drop us here while we waited. The spectacular design by Iraqui born architect Zaha Hadid, is supposed to symbolize  the dynamic relationship between Glasgow and the river Clyde – whatever! When it opened in 2011 the Glenlee, which had been a training ship for the Spanish navy, was moored here and is now part of the museum experience.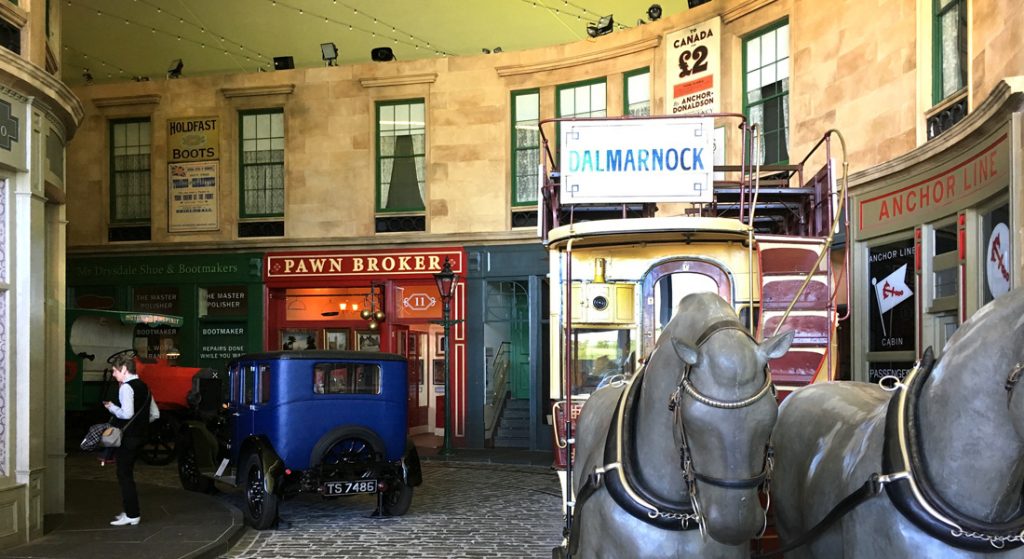 Inside the main building there is a dazzling array of transport memorabilia and even whole streets of the Victorian age have been recreated.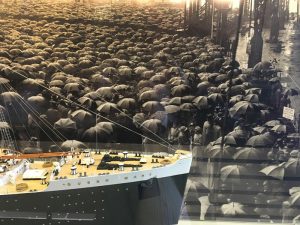 One exhibit reminded us that the weather wasn't any better in 1934 at the launch of the Queen Mary, not that we should  be complaining, we haven't had a drop of rain for weeks. When the Glenlee was being launched in 1896 the Glasgow Subway was being opened …. the only earlier subways at that time were in London and Budapest.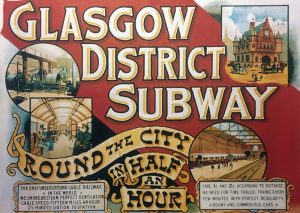 Okay, you are getting impatient … does the museum have scones? Well, enjoyable as all this nostalgic stuff was before long you do need a sit down and some sort of sustenance. We made our way to the Riverside Café which is at the front of the museum looking out onto the river and the Glenlee. It has a very high ceiling and the furnishings are pretty utilitarian but the slightly cavernous feel is more than made up for by the friendliness of the staff.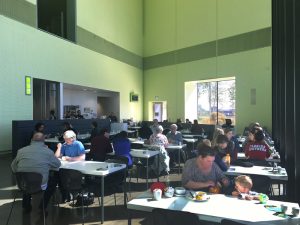 Again, in true Glasgow style … by the time we were finished the serving staff knew more about us than we knew about ourselves. Again, we decided to have some lunch so decided to share the scone. Again, like the Butterchurn in our previous post, it did not look exactly mouth watering but heyho, our dedication to sconology knows no bounds. Sometimes in places like this where they say the scones are freshly baked we can tend to be a wee bit cynical … "surely not", we hear you gasp, "those two could never be cynical"!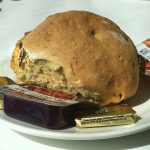 Well, our cynicism was confounded once again, it had been freshly baked and it was really good, no cream but a selection of prepacked jams and plenty butter. Not a topscone, but good effort! The Riverside Museum is superb and we are not at all surprised  that many awards have come its way. It certainly gives you an insight into times gone by and makes you a bit nostalgic for the old days. It is perhaps worth remembering though that there were lots of things about that heavy industrial era that were not quite as rosy as we remember. None of the sparkling exhibits would actually have been like that in real life … they would all have been covered in a layer of soot for a start and it would probably not have been advisable to breathe the air in central Glasgow. Donald Trump wants to bring back the steel and coal mining industries to make America great again … really?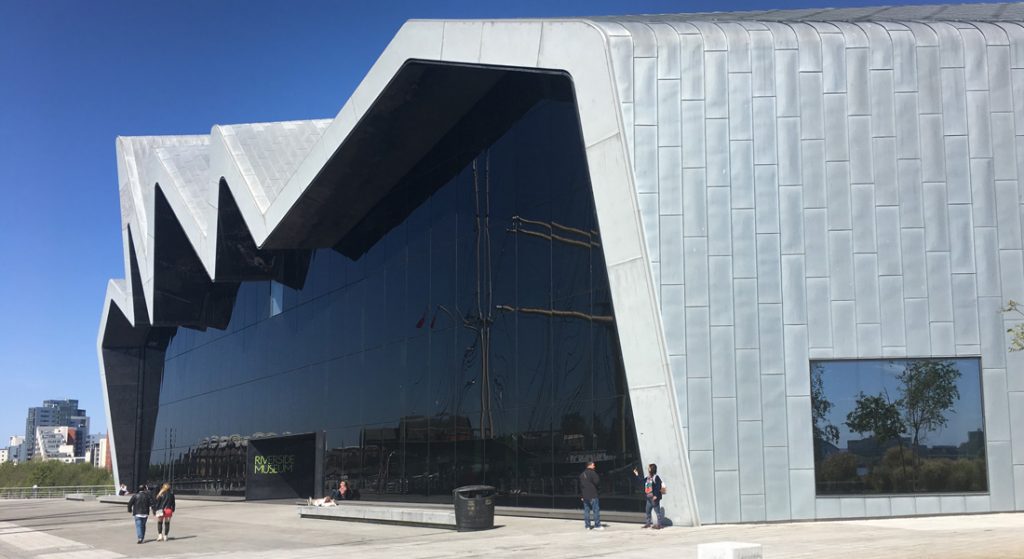 G3 8RS          tel: 0141 287 2720              Riverside Museum