Today we are talking antiques … no, not us … we are talking about the kind that you find in places like this! If you ever have the dubious pleasure of watching daytime television you will no doubt have come across programs like the Antiques Road Trip, Flog It, Bargain Hunt and Cash in the Attic … indeed, you would be hard pushed to avoid them. Sometimes we wonder what the BBC would do without such programs to fill the day. One of the stars of these shows is Anita Manning and this place, Great Western Auctions in Glasgow, is where she hails from. Topically, it might be better called La La Land because she runs it together with her daughter Lala.

We have been known to like a good rummage so we are not exactly strangers here. Not antique experts by any stretch of the imagination but going round these places is good fun and lets you see all the things you never knew existed and never knew you wanted … potentially a dangerous and expensive thing to do! Of course, you can also get a real bargain if you are there at the right time. Getting a bargain, of course, generally means that you were the only one bidding which, in turn, tells you a lot about the items desirability.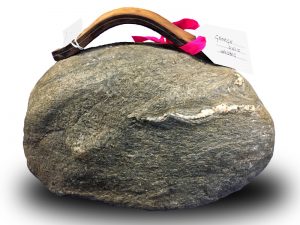 Today we were in Glasgow on an errand nearby so we decided to pop in just to see if there was anything we didn't need. There are always things of interest in any auction so the trick, if you are not a dealer, is to be ruthless with your own desires. For instance, in this auction there was a handbag by the artist George Wyllie which I was tempted to buy for Pat simply because it would have been lighter than any of her other ones. In the downstairs area there is a small café where weary rummagers can get a little sustenance. It is run by a lovely retired lady who does this part time café business, as she says cheerily, "just to keep me off street corners". When the auctions are on she gets up at 5am to bake everything for the coming day … including the scones. It's a no-frills no-nonsense kind of place but since we were feeling a little bit peckish we decide to have a bacon roll each and share a scone.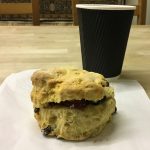 She asked if we wanted butter and jam on the scone – we didn't even bother asking about cream, and then she made up the scone for us .. not behaviour we would normally condone but, since there is only one small table to sit at,  it probably makes sense because most folks just have to stand. Assembling a scone, standing up with a cupful of hot coffee in the other hand is never easy. Anyway we got a seat at the table and started on our rolls which were absolutely fantastic. For some reason we did not have high expectations for the scone but it turned out to be very good too, in fact, it would almost have made topscone were it not for some presentational issues – paper cups, no plates etc … but, hey, they are not trying to impress here, they are just trying to provide some quick bites for hungry bidders who always have one eye on the tv screens following the auction anyway.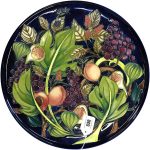 We feel that an accusation of 'presentational issues' could be levelled at the media these days who, three days later, are still going on incessantly about the Westminster Bridge tragedy and elevating it to a status which it surely does not deserve. If they treated it as a crime perpetrated by someone of deranged mind rather than a 'terrorist act' we would not be giving actual terrorists the oxygen of publicity they crave so much. Didn't get the handbag, it eventually went for about £100, sorry Pat!
G14 9UY     tel: 0141 954 1500    Great Western Auctions