Just when you think you have done all the tearooms and coffee shops in your home town, lo and behold, another one pops up. Mind you the Larder has been open quite a few months now … we just hadn't noticed it. Getting noticed is crucially important for all new businesses yet unbelievably this place has neither wifi or a contact telephone number … and, to make matters even worse, it has a big glossy Costa directly across the road. The Larder, therefore, has the dubious distinction of being the only establishment we have ever reviewed for which we cannot find a phone number.  It also 'borrows' its wifi from another business nearby and it doesn't have a website. We fear for the Larder's future … no matter how good the scones are.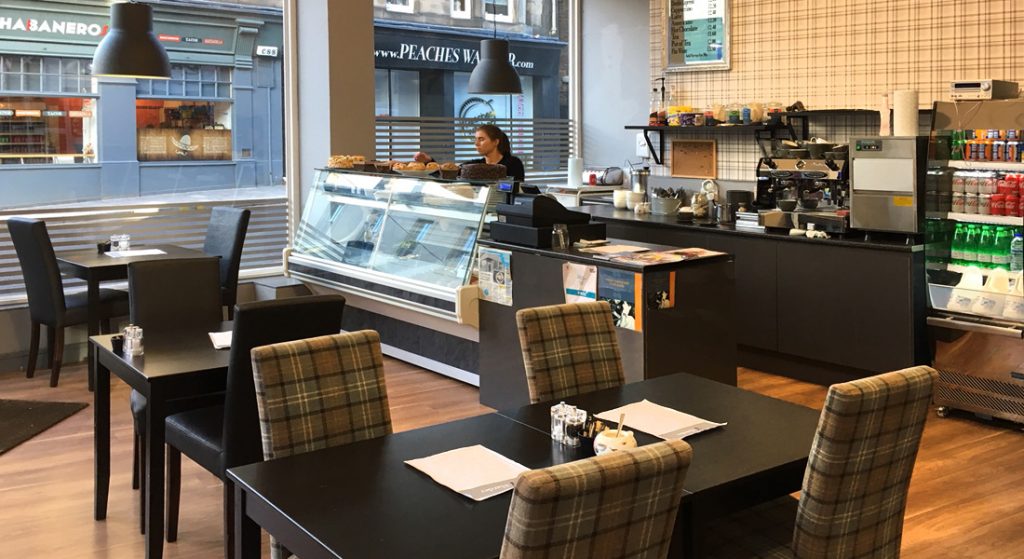 It's a shame that we were the only customers because the two young girls who appeared to be running the place were trying hard. Maybe some home baking would set us on the right track? No, they simply buy their scones from Costco, a huge wholesale warehouse in Glasgow.  However, any preconceptions we may have harboured about warehouse scones were quickly dashed when they actually turned out to be quite good .. on the large side but quite light and fluffy on the inside.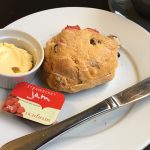 No hope of a topscone here but service, tea and coffee were all good … we wish the Larder well and hope they get themselves sorted out before long. This week it was hard to miss stories about suffragettes and the amazing things they had to do to get noticed. It was, of course, the  centenary of women getting the vote in 1918.  Strictly speaking only 40% of women got the vote then  as opposed to 58 % of men – the rest had to wait another ten years. Nowadays most people find it totally incredible that all this was happening only 100 years ago. It's a bit like the internet – young people think it has always been there … they think the 'right to vote' has always been there too and are surprised to learn that it is in fact a relatively recent innovation. Back in 1707, at the Treaty of Union between Scotland and England, 'the people' would have loved a vote. According to accounts at the time, 99 out of 100 ordinary people were against the Union but of the 175 eligible voters 106 voted in favour and the rest, as they say, is history. We would like to think that, when Scotland becomes an independent country again, people will look back 100 years from now with the same incredulity afforded to the suffragettes at the fact that we were once ruled by another country. We will let you know how the Larder gets on.
FK1 1LZ            The Larder TA